In my previous diary I focused on how corporate influence has supplanted normal party operations for fundraising and organizing. Now I'm going to look at the messaging side. Specifically I'm going to look at the greenwashing that the secretly-funded astroturf organizations do. My congressman, Cory Gardner, rather than supporting the burgeoning green energy industry in his district, he instead supports his oil and gas buddies.
Gardner has been busy going against the wishes of his constituents. He sponsored H.R. 97, a bill so short that it can be quoted in full:
To amend the Clean Air Act to provide that greenhouse gases are not subject to the Act, and for other purposes.

* Be it enacted by the Senate and House of Representatives of the United States of America in Congress assembled,

SECTION 1. SHORT TITLE.

* This Act may be cited as the `Free Industry Act'.

SEC. 2. GREENHOUSE GAS REGULATION UNDER CLEAN AIR ACT.

* Section 302(g) of the Clean Air Act (42 U.S.C. 7602(g)) is amended by adding the following at the end thereof: `The term `air pollutant' shall not include carbon dioxide, water vapor, methane, nitrous oxide, hydrofluorocarbons, perfluorocarbons, or sulfur hexafluoride.'.

SEC. 3. CLIMATE CHANGE NOT REGULATED BY CLEAN AIR ACT.

* Nothing in the Clean Air Act shall be treated as authorizing or requiring the regulation of climate change or global warming.

He justified this position as follows from his press release:
The EPA has been using the Clean Air Act to quietly impose carbon emission restrictions that are outside the authority of the Act, placing a bigger burden on local governments and consumers as they struggle to comply with the stricter regulations. Rep. Gardner, whose district is predominantly rural, is especially concerned with the impact EPA policies are having on farmers and ranchers.
Predominately rural? According to the Census Bureau CD4 is 75% urban.
Furthermore, he's not representing his district. Here's an NRDC poll of his district:
Rep. Cory Gardner, R-Colo.
(519 voters interviewed February 4-5/margin of error: plus or minus 4.3 percent)

* 66 percent say "Congress should let the EPA do its job."
* 54 percent say that "EPA needs to do more to hold polluters accountable and protect the air and water."
* 61 percent oppose the Upton proposal "that would block the EPA from limiting carbon dioxide pollution."
* 55 percent favor "the EPA setting new standards with stricter limits on air pollution."
So, how did he get elected when he is so out of step with his moderate, purple, district? Short answer, greenwashing. Long answer, below the fold.
Gardner help found The Western Skies Coalition, a 501 (c)(4) advocacy group incorporated in Virginia but with an office in Littleton. Former Colorado Gov. Bill Owens and former U.S. Secretary of Education Bill Bennett are two of the noted members of the organization's "constantly growing" executive committee. Here's their announcement:
Western Skies Coalition Launches Website Coalition dedicated to promoting issues that make America great

Denver, Colo. (October 10, 2007) – Today, Western Skies Coalition established a strong presence on the Internet by launching an interactive, information-packed website at www.WesternSkiesCoalition.org. Western Skies Coalition, a 501(c)(4) tax-exempt organization, is dedicated to promoting issues that make America great: protection of individual freedom; a pro-growth economic agenda; a strong national defense strategy; and the preservation of the environment.

"Working with policy experts and a strong grassroots network, our goal is to educate elected officials and promote policies through broadcast media, mail and the Internet," said Sean Tonner, president of Western Skies Coalition. Former Colorado Governor Bill Owens and Former U.S. Secretary of Education Bill Bennett are two of the noted members of the constantly growing Western Skies Coalition's Executive Committee.
The website includes discussions and white papers on topics such as tax reform, immigration, health care, energy and U.S. competition, as well as recent news stories and contribution information. "Launching this site is the first step toward bringing important policy information to citizens of the West," Tonner said.

Editorial Contact
Sean Tonner
Mobile: (303) 916-0266
So, Western Skies has said above that they are organized as a 501(c)(4). They've yet to file with the Internal Revenue Service, according to a search I did of IRS records.
Sean Tonner of Phase Line Strategies, a conservative consulting firm based in Highlands Ranch, filed Western Skies as a foreign entity with the Colorado Secretary of State's office on April 2 of 2008.
Speaking of Sean Tonner here he's referred to in a voice mail by Scott McInnis for his 527 (which is a no no because of coordinations with campaigns).
WANNA VISIT WITH YOU ON THIS TWO-THOUSAND-AND-TEN GOVERNOR'S RACE...

I'M GONNA RUN FOR GOVERNOR, WE'VE GOT A GREAT TEAM ON-BOARD, WE'RE PICKING UP A LOT OF SUPPORT, I KNOW YOU HEAR THAT, BUT THE FACT IS UHH, FROM CANDIDATES, BUT THE FACT IS WE REALLY HAVE. IT'S GOING VERY WELL.

WE'VE GOT SEAN TONNER ON BOARD, BARB CARD ON BOARD, SHE'S DOIN' OUR FINANCE, SEAN'S DOIN' OUR 5-UH....(COUGH) OR A-527, MIKE HESSE IS, UH, DOIN' OUR DAY-TO-DAY OPERATIONS, WE'VE GOT BARB McTURK ON OUR VOLUNTEER ORGANIZATIONS,

WE'VE GOT LOTS OF SUPPORT IN THE OIL AND GAS INDUSTRY, LOTS OF SUPPORT IN THE BUSINESS COMMUNITY, LOTS OF SUPPORT FROM, UH, THE LEGISLATIVE ARENA, ESPECIALLY FORMER LEGISLATORS, AND SO ON AND SO FORTH,

When asked about the voicemail by the Denver Post, McInnis replied.
McInnis, who verified that he left the message, points out he's not officially announced his candidacy or formed a candidate committee, so the rules do not yet apply.

And what he really meant to say was that Tonner, president of consulting firm Phase Line Strategies, is a supporter and answering questions about potential future 527s, he said.
The only 527-style organization that I can find done by Phase Line is the Western Skies Coalition and it puts the oil and gas comment also in perfect context. From my poking around it really appears that candidates like McInnis and Norton were the real Tea Party candidates. That is, those with the backing of the corporations. (This is how Governor Walker snuck in. People weren't looking for who was owned by the corporations but who was the craziest as the Tea Party candidate.) When the useful idiots picked the wrong guys (Maes and Buck) they were left to flail in the wind because they weren't as "owned" by the corporate donors. Remember this? When it looked like McInnis' plagarism was fatal to his cause and Maes was going to win, the powers that be courted ReMax founder, Dave Liniger immediately prior to the primary:
ReMax founder Dave Liniger is being courted by fellow Republicans to jump into the governor's race, a prospect Liniger is considering, multiple sources involved in or close to the conversations told The Denver Post Tuesday.

...

GOP donors and leaders have had on-going conversations about trying to squeeze McInnis out. His big donors and GOP stalwarts, such as former Gov. Bill Owens or former Sen. Hank Brown, are expected to try and convince him that abandoning the race in favor of someone else is the party's best chance for success in November, GOP sources said.
Another Phase Line Strategies principal is Mike Ciletti who is Gardner's campaign manager. According to Source Watch.
Mike Ciletti was a principal in Phase Line Strategies, a Colorado public affairs and political consulting firm founded in 2002. In 2006, he was a spokesman for Wal-Mart. In 2009 he started New West Public Affairs , a Colorado firm that organizes grassroots advocacy campaigns and promotes Teleforum [Note: remember this as I will be bringing this up later.] as a PR and advocacy tool to help influence statewide legislation. He started the firm with his friend, Jake Zambrano .

Prior to joining Phase Line, Ciletti served as Deputy Director for Colorado Governor Bill Owens ' Office of Innovation and Technology. He also worked for for U.S. Senator Wayne Allard (R-CO) and Congressman Joel Hefley (R-CO). [2] He was also political director of the Colorado Republican Party from 1999-2000. He obtained a BS in political science from Regis University in 1994
.
The Colorado Independent found the following when they looked into Western Skies Coalition in 2008:
Rep. Frank McNulty is one of a trio of GOP state lawmakers thought to be behind the Western Skies Coalition — a Virginia corporation raising oil and gas money to target keystate senate races.

In an interview with Colorado Independent, McNulty (R-Highlands Ranch) declined to discuss the group's funding sources.

"I signed the Western Skies pledge on a balanced energy portfolio," McNulty said. "I think that's critically important. We need to be looking at traditional sources like coal, and hopefully clean-coal technologies, and natural gas. We also need to look at increasing the use of hydro power. And I think we need to look at nuclear."
What is this pledge?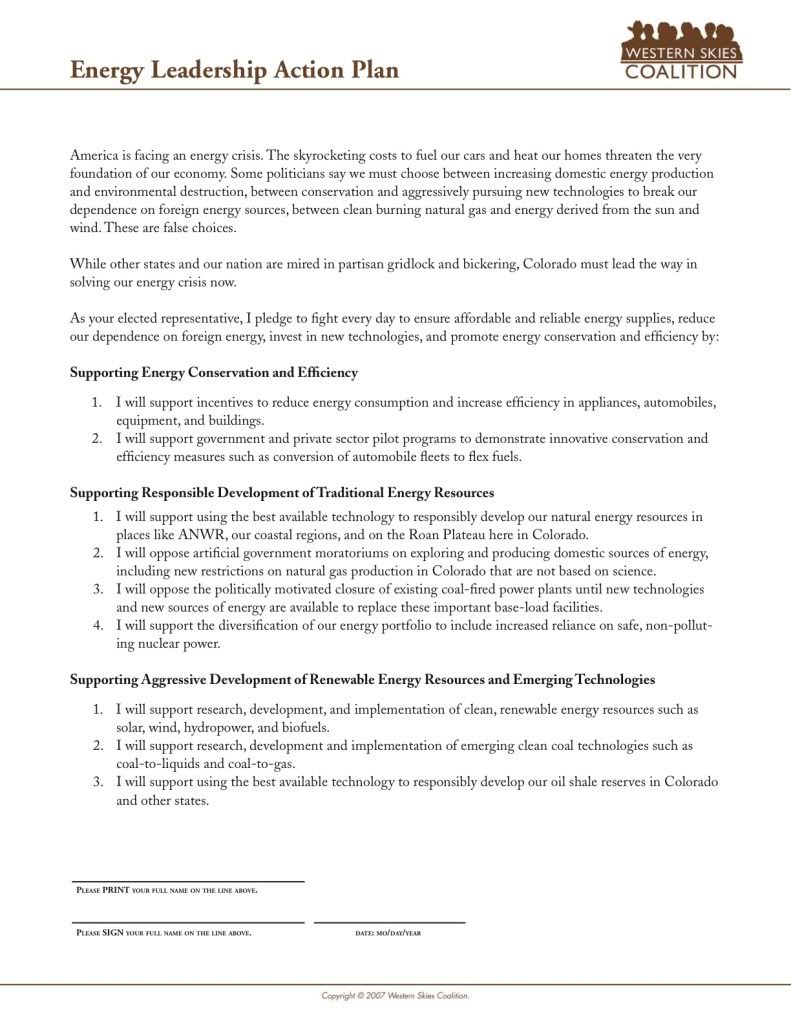 They continue.
Several sources, both on and off the record, have told Colorado Independent that McNulty, along with Sen. Josh Penry (R-Grand Junction) and Rep. Cory Gardner (R-Yuma), are behind the Western Skies Coalition (WSC), which bills itself as a 501(c)4 nonprofit organization but has not registered as such with the Internal Revenue Service.

WSC has a Littleton office, but messages left there have not been returned, and both Penry and Gardner did not return numerous phone calls and e-mails seeking comment.

So-called C4 organizations by law do not have to disclose donors but must engage in promoting social issues, with no more than 49 percent for their contributions spent on political advocacy. Western Skies in recent weeks ran thousands of dollars worth of television ads in support of Republican state senate candidates Shawn Mitchell and Libby Szabo.

The ads have portrayed both Mitchell, an incumbent from Broomfield and Szabo, a businesswoman running for Senate District 19 on the Front Range, as green-energy advocates. In fact, Mitchell has repeatedly voted against increasing the state's renewable-energy portfolio and Szabo is running on a pro-traditional-energy platform. Neither Mitchell nor Szabo returned messages requesting comment.

According to an Aug. 29 story in the Rocky Mountain News, Mitchell also signed the Western Skies pledge, but did so because of its traditional-energy opportunities rather than its nod to pursuing renewable sources, telling the paper, "What I'm not is a clean-energy statist that's going to force consumers to transition before it makes sense."
TV ads were not the only way greenwashing occurred. Two other ways were used. One was the microtargeted mailing and the other is the phony townhall. First, the microtargeted mailing. Note the following from Real Vail:
Several oil and gas companies with extensive interests in Colorado flatly refused to disclose whether they have contributed to Western Skies, and McNulty wouldn't go there either. The group lists on its executive committee former Gov. Bill Owens, a Republican who used to work as an oil and gas lobbyist and was behind the infamous Trailhead Group 527 that flooded state airwaves with attack ads in 2006.

Another reportedly targeted race — Senate District 8 in northwest Colorado, which includes parts of gas-rich Garfield County — has yet to see substantial injections of outside money.

"I've seen a couple of mailers for me that have come from somebody called Coloradans for Integrity, and I don't know who that is. I haven't seen anything against me," said Rep. Al White (R-Hayden), who's running to replace term-limited Sen. Jack Taylor in SD 8. "It's certainly not to the extent that some of those targeted Front Range races are being identified for support, and I don't know frankly how much more I will get, if anything, by way of outside entities."

Coloradans for Integrity is a Colorado LLC registered in January to Jennie Willis, a receptionist at Denver-based Axiom Strategies, which on its Web site purports to be a bi-partisan political consulting and lobbying firm. It lists among its clients the Colorado Independent Energy Association, which promotes natural gas production but also renewable energy.

Open Secrets shows that Axiom Strategies is a recipient of Gardner's campaign funds for microtargeting Nov. 1 and 2 2010. Here's Jeff Roe bragging about his microtargeting capabilities.
First, the campaign collected as much voter data as possible through volunteer work and paid IDs. Second, Axiom Strategies developed a mail plan that separated early voters and messages from Election Day voters. Third, Axiom integrated volunteer and paid voter ID's into two discrete universes to conserve resources and avoid overlap and waste.

The first step of the strategy is done by the hard work of the campaign. Whether it's walking neighborhoods, holding phone banks or paying for voter data, the campaign collects as much voter ID data as possible and incorporates it in a master database.

Second, while the voter ID program was ongoing, we spent our time developing mail plans for each district. The districts presented a unique challenge in that each had different rules for absentee/early voting. It was essential to understand the key dates and design a program that would hit the right voter at the right time.

Finally, the volunteer and phone data was integrated into our mail plans for both campaigns. One of the common complaints about direct mail programs is that it doesn't incorporate volunteer and paid ID data that is collected through the course of a the campaign and, many times, simply ignores it. The result is wasted time and money, both for the ID program and for mail that misses its target.

People in Missouri should pay attention to these people in their back yard.
The groups giving money to defeat the e-tax don't have to tell where the money is coming from. Under Missouri law, certain non-profit groups are allowed to accept donations anonmously, and that's exactly what opponents of the city's earnings tax are doing. They say they have to, to avoid retailation from the mayor's office.

"Our opponents are a secret wrapped in a mystery," said Cheryl Bisbee, Save Kansas City Committee.

Defenders of Kansas City's earnings tax held a press conference to complainm that their opponents are campaiging with secret cash. They used fake money as a prop but the $375,000 spent to fight the earnings tax is real. It's just not real clear where it comes from.

"It's the secrecy that bothers me," said Bisbee. "It's the lack of full disclosure. The Missouri Ethics Commission, those reports are on file for a reason, and to use a legal loophole to hide where the money is coming from, I think that's not the right idea."

"We are abiding by every rule and regulation that there is out there," said Jason Klindt.

Klindt works for Axiom Strategies. They are the political consultants hired by the two main political action committees funding the vote against the e-tax, but it's impossible to know who's funding them. Although Axiom Strategies abides by the law, voters want to know who's funding them and whether the earnings tax hurts Kansas City.
Second, greenwashing occurs via phony town halls. Remember Teleforum which Mike Ciletti's New West Public Affairs pushes? According to SourceWatch:
In February, 2009, elected officials in Mesa County, Colorado, with assistance from the public relations firm New West Public Affairs held a Teleforum in the county, the purpose of which appeared to be to direct and shape public opinion about proposed statewide legislation to regulate the oil and gas drilling industries. Using Teleforum software, County elected officials phoned the homes of 30,000 registered voters in the county simultaneously at 9 AM on a Saturday morning and asked them to participate in an ongoing teleconference about the issue of natural gas drilling. The tenor of the discussion favored the point of view of the drilling industry. One commissioner who acted as the moderator of the call stated about halfway through the meeting that a caller (who was not allowed to speak) had asked to know if the commissioners had "given thought to having anyone on the panel with a differing opinion." The moderator, Commissioner Janet Rowland, responded by saying the meeting "wasn't intended to serve as a pro-and-con discussion of the industry," but rather "as a forum for people to ask questions." Rowland and another Commissioner,Craig Meis, both have financial ties to the energy industry in the County, according to the local paper.
Finally, one more thing on the June 2010 fundraiser I commented on in Part I. Here's how the Coloradoan described it:
Just days after his campaign criticized Betsy Markey for "taking directions from lobbyists and special interests," Republican congressional candidate Cory Gardner will have a $1,000-a-plate fundraiser hosted by six lobbyists, including one who counts BP America and Goldman Sachs among his clients.
Now there's some companies you see a lot of on the eastern plains! The Colorado Independent commented on this as follows:
The Sunlight Foundation's Party Time blog reported Tuesday that Gardner, the Republican candidate for Colorado's hotly contested 4th Congressional District, will be the beneficiary Thursday of a $1,000-a-plate luncheon in Washington co-hosted by BP lobbyist Dan Meyer.

"Amidst the biggest oil spill in U.S. history, a series of public relations foibles, and public outrage against BP, the company's lobbyists are continuing to work the Washington circuit," the blog notes, adding that Meyer – now with the Duberstein Group – was assistant to the president for legislative affairs under George W. Bush.he Sunlight Foundation's Party Time blog reported Tuesday that Gardner, the Republican candidate for Colorado's hotly contested 4th Congressional District, will be the beneficiary Thursday of a $1,000-a-plate luncheon in Washington co-hosted by BP lobbyist Dan Meyer.
I'll conclude with their prescient concluding graf from June 2010:
He rarely misses a chance to demonize Democrats for over-regulating the industry and killing high-paying if cyclical jobs in the various gas patches around the state and Western Skies or some other such industry front may yet rear its hydra-like heads in the upcoming mid-term elections. So maybe a BP fundraiser in D.C. makes perfect sense.
Cory Gardner (R-Koch, uh BP, uh Anadarko, uh nevermind)